A Complete Guide For New Residents Of Delray Beach | Where To Start On Day 1
Posted by Anthony Carriuolo on Tuesday, January 31, 2023 at 8:00 AM
By Anthony Carriuolo / January 31, 2023
Comment

Welcome to Delray Beach! You've made it. This beautiful "seaside village" has a small town, neighborly vibe with big city charm. The homes and condos that surround famous Atlantic Avenue, one of South Florida's best-known cultural corridors, are as serene as they are near to the action. While many coastal cities in the Tri-County Area share similar characteristics, there are still distinct differences that make each city from Miami to Palm Beach unique. The risks, rewards, cultural offerings, and even the topography all make life in Delray Beach different than its neighbors to the north and south. For your part, read on and learn how to get your feet under you from moving day to your first night out on Downtown Atlantic Ave! Here is our Day 1 Guide for New Residents of Delray Beach.

KNOWING YOUR SURROUNDINGS
Delray Beach is a small city with a big personality, seated between Boynton Beach to its immediate north and Boca Raton to the direct south. Its population is smaller than in each city, and so are its zip codes. With just 5 zip codes representing a line from the shoreline to Jog Rd. to the west, Delray Beach can be easily imagined in 4 distinct residential corridors. East Delray Beach (33483) features the smallest population share but the most illustrious housing, insofar as waterfront real estate is concerned. The center of Delray Beach contains the most blended selection of its available housing, including everything from Kingss Point, a massive 55 and over community, to Verano condos, and The 5, formerly known as The Hamlet. The westernmost reaches of Delray, much like Boynton Beach to the north, contain its most sprawling, immense, and luxuriant country club communities such as The Gleneagles and Mizner Country Club.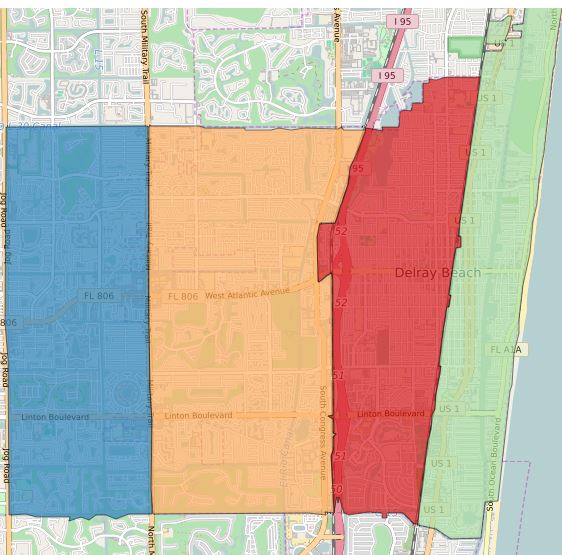 Much of Southeast Florida from Miami to Palm Beach is organized around three significant parallel lines that have determined the urban sprawl and continued growth of the area for the past several decades. These lines, one natural and two manmade, are the Atlantic Shoreline, I-95, and The Florida Turnpike. Much of the areas around I-95 are relegated to industrial activity and more affordable housing, yet this is not as prevalent in Delray Beach as it is in cities like Ft. Lauderdale.
Beach activity, much of our cultural centers - restaurants, venues, playhouses, and historic sites, rest near the shoreline in large part thanks to the way our forebears built the city from the ground up. As one ventures westward towards the Turnpike, homes are newer, areas are clearer, there is less evidence of historic habitation, and more available new housing. Communities such as Tuscany, The Bridges, and Seven Bridges embody this recent development, in which classical influences from years past were wielded in the crafting of numerous planned communities.

DIALING INTO THE ESSENTIALS
Ok! You've made it, your boxes are unfurling, and you're enjoying the fresh air and balmy sunlight of Delray Beach. It's time to get your infrastructure set up and live. Delray Beach residents rely on a few near-monopolistic companies who, for better or worse hold dominion over the Delray Beach fiber optic and electrical infrastructure.
Cable & Internet - many Delray Beach communities, especially those in West Delray, its Country Clubs, and retirement communities, include some form of cable and internet in its monthly or quarterly fees package. Before wasting time and money on redundant services, be sure to know everything you need to about what's offered by your new community.
If not offered, the majority of Delray Beach internet users will choose between Comcast and AT&T. While there are other options in the area such as Verizon or T-Mobile, the former two are by far the most prevalent, with the most field techs and infrastructural support in the region. For big TV watchers, satellite is still an option, but due to infrequent but potent inclement weather, especially during our hot summers, a more grounded option is usually recommended.
Power & Water - Florida Power & Lighting (FPL) is responsible for the distribution & maintenance of power in Palm Beach County. While prices have climbed thanks in large part to inflation and recent constraints on domestic energy production, FPL has always endeavored to provide excellent service and customer care along with lower prices compared to much of the nation. Thanks to recent hurricanes such as Irma, Ian, Harvey, and others, FPL workers have shone in the spotlight, providing rapid restoration to our power grids as well as those in other states who have come in need.

Water is serviced through the county, where new residents much register with the Palm Beach County Utilities Dept. From there, service is quick, easy, and simple, with auto draft payment options preferred by many.

GETTING AROUND TOWN
Delray Beach is one of the most bicycle and pedestrian-friendly cities in Palm Beach County. This is thanks in part to the way the city has been constructed around Atlantic Avenue, where you'll find upscale families enjoying the quiet yet immediately accessible main roads via their golf carts. The city even offers a golf cart-based, free transportation around the downtown area. Unlike Boca Raton, whose downtown corridor is replete with mid and high rise condos but few adjacent single-family homes, Delray Beach includes a large variety from the shoreline inward. Easy access to downtown is available to residents from the shoreline to I-95, and south to Linton Rd. In addition, the notable split of US-1, also known as Federal Highway, into one-way streets bisected by housing such as Mallory Square townhomes. While this may prove confusing for some, especially those who are familiar with other sections of US-1, it allows for a safer passage of pedestrians both along the road and across it.
Walking from Swinton Ave. to the shoreline is truly one of the most pleasant walks in South Florida - full of sights, sounds, smells, and new opportunities to explore.

POTENTIAL CONCERNS OR SAFETY ISSUES
Delray Beach is one of the safest communities in South Florida, with a positive police-civilian relationship, minimal violent crime, and well-maintained pedestrian walkways, the danger of human-induced concerns are insignificant. For many, especially those moving from northern climes, the wildlife both native and invasive are causes for concern. Outside of the extremely rare encounter, animals such as the Portuguese Man o'War, mosquitos, and the occasional alligator sighting pose a risk. Respect and understanding of our aquatic climes, both manmade and natural is a fundamental start to living safely. This includes swimming lessons for kids, safe beach habits, emergency preparedness, and always remaining alert near the shorelines.
Aside from these concerns, hurricanes pose the greatest threat, and though rare in recent years, are something you should never be unprepared for.

GETTING OUT AND HAVING FUN
Now for the fun part. Getting out and having fun is easy when you live in Delray Beach. While not the only place to gather and enjoy fine dining, great cocktails, and friendly banter, Atlantic Avenue is the most recognizable locale within miles, rivaled by Mizner Park and Las Olas Blvd. to the south and Clematis St. to the north. Delray Beach is home to some of the most distinct flavors, experiences, and nightlife in South Florida, and with relative safety and ease of access, staying safe while cutting loose has never been easier. Be sure to follow local publications and social media accounts for the many festivals, public events, and outdoor markets that dot the calendar with riveting opportunities to live your best life under the sun of Delray Beach.